2018 Upperville Colt and Horse Show Welcomes St. Bride's Farm as Official Presenting Sponsor
Upperville, Va. – March 14, 2018
The Upperville Colt and Horse Show (UCHS) is pleased to announce a new sponsorship agreement with St. Bride's Farm, a prominent Virginia based show jumping stable and breeding operation. Beginning in 2018, St. Bride's will become the Presenting Sponsor for the Upperville horse show, a national classic established in 1853.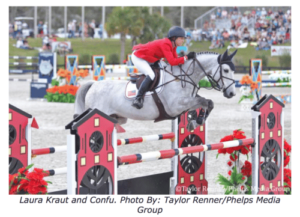 The historic event is rooted in tradition and community. For over 164 years, the UCHS has hosted top national and international athletes for elite competition, treating spectators from northern Virginia, Washington D.C. and the Mid-Atlantic Corridor to a unique equestrian event. This year, the FEI-ranked CSI4* event will be held Monday, June 4, through Sunday, June 10, culminating in the Upperville Classic Grand Prix on the final day.
After visiting a friend and experiencing the magic of hunt country, Barbara Roux and her family moved from California to Upperville, Virginia in 2012.
Roux spent three years renovating the historic home and original barn at St. Bride's Farm, then added another barn, indoor riding ring and paddocks. What started as a private training facility has grown into a small breeding operation with the first "home breds" recently beginning their careers in Europe. St. Bride's is also now the home of horses competing at the national and international levels under U.S. Olympian Laura Kraut – most recently as a member of the U.S Equestrian Team in the Nations Cup in Ocala, Florida aboard her St. Bride's mount Confu.
"Shortly after relocating to Virginia, the UCHS extended an invitation to join the Board of Directors, which I proudly accepted, " continued Roux. "Since joining the UCHS Board, I have been privileged to help grow and evolve this prestigious event into one of the nation's most respected competitions." Upperville is a unique and special home for my family and business, and I am pleased to support such a great institution.
Roux has been involved with many initiatives for the UCHS since joining. Now, as vice president of the board, she is especially enthusiastic about having established the 1853 Club for premium viewing and hospitality and modernizing the historic event with the most up-to-date technological advancements.
"I am very excited to see how completely the show has embraced new technology to enhance UCHS' online presence through Upperville Live, a suite of digital projects and programs that include online entries, live streaming for both hunter and jumper competitions, enhanced broadcast-level coverage of signature events simulcast on both Facebook and the USEF Network and live updates from the Upperville Colt and Horse Show's various social media outlets," said Roux.
As the first official UCHS Presenting Sponsor, Roux is looking forward to another world-class competition in 2018. Roux concluded, "It has been a joy to see this competition grow and evolve."
Entries for the 2018 Upperville Colt and Horse Show, presented by St. Bride's Farm, may be submitted online via HorseShowsOnline's streamlined entry system beginning in early April. The closing date for entries this year is May 15. Trainers and riders are encouraged to submit their entries as soon as possible.
The learn more about the 2018 Upperville Colt and Horse Show, please click here.
Source: Click Here