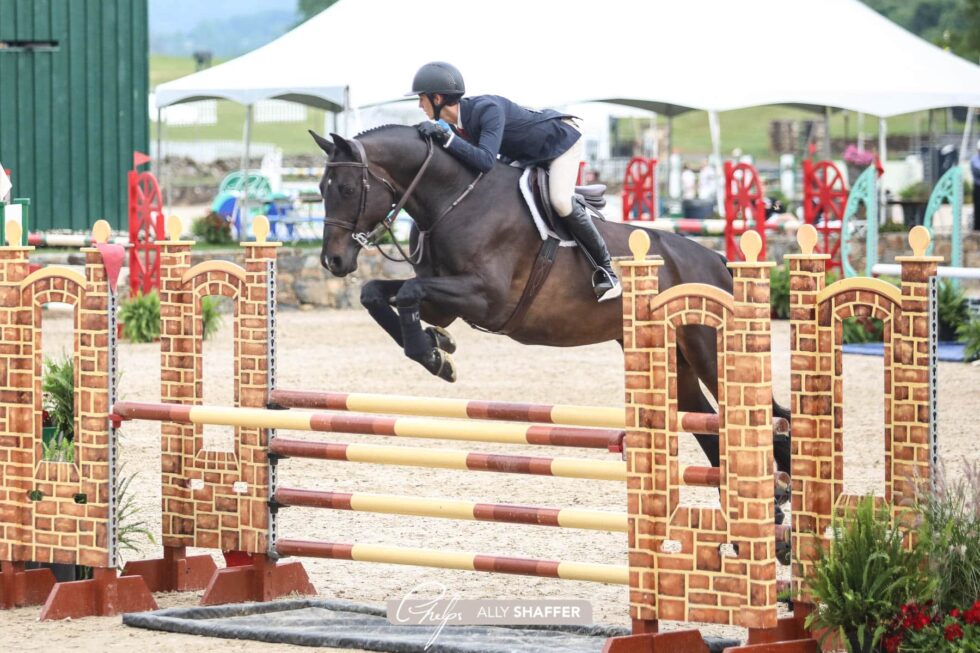 Upperville, Va. – June 10, 2021 – Equitation competition the Upperville Colt & Horse Show kicked off Thursday morning with the Platinum Performance/USEF Show Jumping Talent Search 2* and the ASPCA Maclay in the HorseFlight Arena of the historic showgrounds. Dominic Gibbs and Cent 15 bested 30 of the country's top junior riders in the Platinum Performance/USEF Show Jumping Talent Search 2*, while Alexander Alston and Canny Windsor Z took home the win in the ASPCA Maclay.
The Platinum Performance/USEF Show Jumping Talent Search 2* over fences track, designed by Nick Granat (USA), consisted of 14 efforts in a time allowed of 69 seconds, which included a one-stride, a two-stride and multiple bending lines. Riders then had the option to jump an open water jump or a skinny vertical for the final jump in course. Following the jumping phase, 12 riders were invited back for the flat portion of the class, bidding them one final chance to make a positive impression on the judges. Gibbs, who trains with Stacia Klein-Madden and the Beacon Hill Show Stables team, and Mountain King Ranch LLC's Cent 15 continued to wow the judges, ultimately nabbing the win at the conclusion of the two phases. While Cent 15 has been out of the competition ring since the 2021 Winter Equestrian Festival, the 2020 ASPCA Maclay Finals champions did not miss a beat in tackling their first show back together, further solidifying their status as one of the most competitive equitation partnerships in the country.
Following the Platinum Performance/USEF Talent Search 2* class, the ASPCA Maclay welcomed 33 entries to compete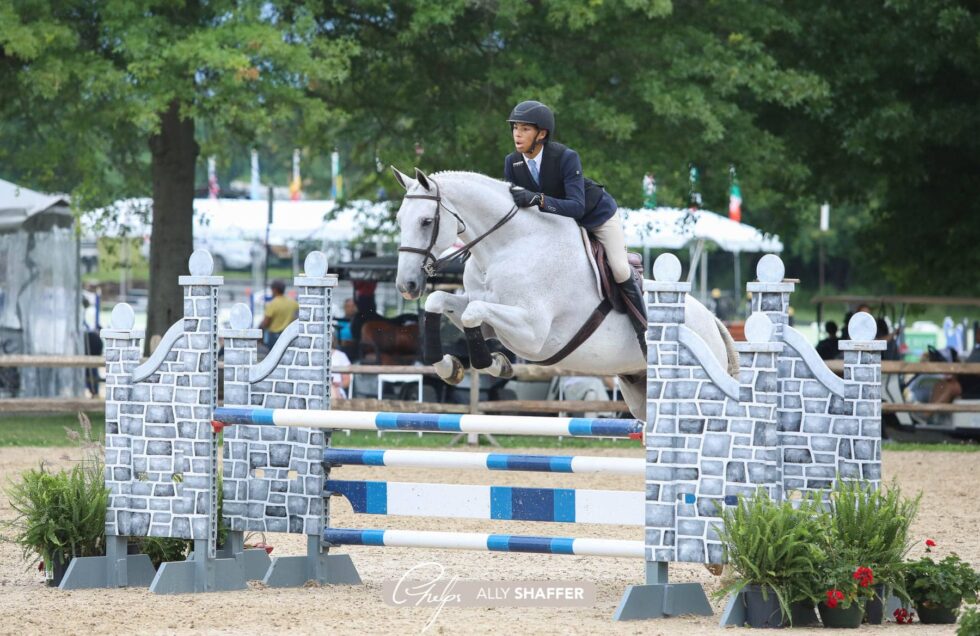 over a 10-effort track, once again designed by Granat. Alston and Peacock Ridge LLC's Canny Windsor Z topped the field of junior athletes. The pair is coming off a strong few weeks at the Tryon International Equestrian Center after only beginning their partnership during the 2021 Winter Equestrian Festival. Training under Missy Clark and John Brennan of North Run, Alston has his sights set on the major 2021 equitation championships set to take place in the Fall.
Concluding the day in the Parker Hunter Ring, Dominic and Jordan Gibbs claimed the first and second place spots in the Dover/USEF Hunt Seat Medal. Dominic and Cent 15 came back in the top spot for the test and maintained their lead to win. Jordan and Mountain King Ranch LLC's Limitless impressed the judges and moved up from the fifth spot for the red rosette, rounding out the top performances for the Gibbs family on Thursday.
Competition in the hunter divisions at the UCHS will continue Friday, June 11, beginning at 8 am, closing out the Amateur-Owner divisions and concluding with the Paul and Eve "Go As You Please" Handy Hunter. The regular pony hunters will be featured in Hunter Ring II.
FROM THE WINNER'S CIRCLE
Dominic Gibbs – Platinum Performance / USEF Talent Search winner
On his Round:
"My horse has not shown since the [Winter Equestrian Festival], so he was obviously happy to be back in the show ring and I could feel that. I think that the course suited him very well, especially the triple combination. There was an option to do eight or nine strides to a skinny vertical and with his big stride and happy mentality right now, I just cruised right down the line in eight [strides] and finished on a very good round."
On going first in the class:
"I am very comfortable with my mount, and I think that helps my confidence and with confidence, the nerves stay away."
On his relationship with Cent 15:
"When we got Cent, I was actually looking for a High Junior Jumper. I went over to Europe with my mom, and I tried a whole bunch of different horses and I clicked with Cent immediately. We brought him over thinking he would be my high junior horse, and he told me that he liked the equitation. I said 'OK, we will make this work!' We have been teaching each other along the way. He was my first real 3'6" horse and I think that our relationship has built over time naturally."
On showing both jumpers and equitation:
"I think that the jumpers and equitation complement each other so well. With the speed and the technicality in the jumpers, it really helps me stay smooth and consistent in the equitation rounds. The equitation precision obviously makes me more confident in the jumpers. It has been a good combination for me."
On showing at the Upperville Colt & Horse Show:
"I love it! It is magical! I especially love showing in the Parker Hunter Ring under the Oaks. It is truly unlike anywhere else."
Alexander Alston – ASPCA Maclay Horsemanship Class winner
About his over-fences round and flat phase:
"Canny is very sweet. I have been riding him for a little over five months now and we get along very well. I thought it was nice and smooth, I had a good gallop all the way around which is something I was shooting for. He flats very nicely, and he naturally stands out because he is grey. Overall, it was quite good."
On showing at the Upperville Colt & Horse Show:
"Showing at Upperville is very unique, especially the Parker Hunter Ring. There is a lot of scenery around which is nice. It is my first time showing here and I am really enjoying it."